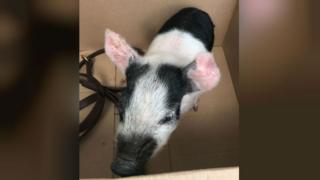 A guy has actually been accuseded of strolling a pig along a hectic city street in Norwich – without a lead.
Norfolk Police were contacted us to Prince of Wales Road on Wednesday and discovered the untethered pig "playing around" with a pet, which bit among the officers.
The guy was apprehended and later on accuseded of highways and public order offenses, and having a precariously out-of-control pet dog.
The pig was eliminated by the RSPCA and the guy will appear in court later on.
Officers were contacted us to reports of a male being violent to members of the general public at about 10:10 BST on Wednesday.
He was charged under Section 155 of the Highways Act 1980 with "having a pig loose and untethered on a public highway", a cops spokesperson verified.
An officer who took a picture of the pig stated he was "lost for words".